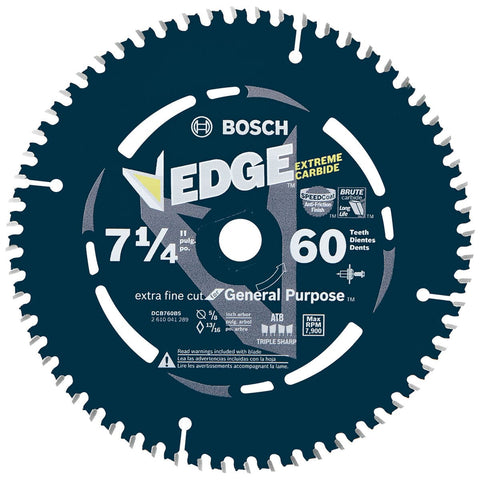 Bosch DCB760B5 5-Pc 7-1/4" 60-Tooth Edge Circular Saw Blade
FEATURES:
• Brute™ Carbide – an upgraded C3/C4 micrograin formulation for increased impact damage resistance
• ATB tooth geometry – for fast cross cutting, cutoff and trim of wood and plywood
• SpeedCoat – an antifriction finish for faster cutting with no burning or melting
• Thinner kerf – provides faster cuts and less waste
• Extra-hard steel blade body – delivers accuracy and resists bending and deflection for true cuts
• Edge blades – developed for extreme performance for specific material and application
• Quality manufacturing – features the best materials and innovative engineering

SPECIFICATIONS:
• Max RPM: 7900
• RPM: 7900


Bosch Edge Circular Saw Blades start sharp, stay sharp and resist impact damage for long life. They are designed for tough construction jobs, because they are engineered with Brute™ Carbide, an upgraded C3/C4 micrograin carbide formulation that increases impact resistance. They have face-ground teeth for clean cuts and excellent finish. The special tooth geometry and teeth count provides "Ultra Fine" cuts in wood. To avoid warping, these blades have been built with expansion slots. These blades also feature control cut shoulders to reduce kickback, and they have body slots for excessive heat.
---
We Also Recommend
---